It's been a while since a) I have posted in this dusty attic of a blog, or b) I've done an epic outdoorsy activity. Sailing trips kinda count for the latter, because there is a lot of snorkeling involved. We have also done some cool hikes in the Northwest. At the end of the day, however, there was always a warm bed and a hot meal.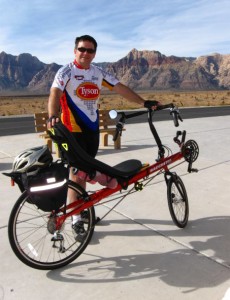 For the record, I like warm beds and hot meals. Occasionally, though, it can be fun to test your limits and challenge yourself physically. For that reason, I've signed up for "the oldest, largest and longest bicycle touring event in the world," or, as some people call it, RAGBRAI. Yup, me and 10,000 other crazy people (or as many as 23,000 on certain legs of the journey) will traverse the Great State of Iowa from west to east, covering nearly 500 miles in 7-ish days in July.
Google the event, and you'll see photo evidence of why it's sometimes called a "Mardi Gras on wheels." Every little town has festivals and food, and people dress up in zany costumes and festoonery. I don't have a costume, or even a team, but whichever lunatics I'm able to convince to do this with me are bound to come up with something. I'll be riding my Bachetta Giro-20 recumbent bike, so that's likely to be Dr. Seuss-y enough for most people. Recumbent riders in general have no shame.
So, back to the blog thing. I plan on posting my training notes and general thoughts on getting ready for RAGBRAI here, instead of on Facebook. Facebook gets noisy with people's middle-aged demonstrations of feats of strength and endurance. At least, it does for me. My stuff will be way more interesting, of course. Stay tuned for posts about tires.